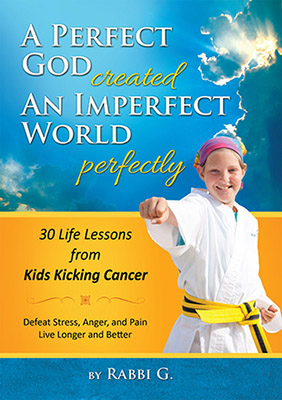 Stress kills. The destructive chemical cocktails of anxiety, pain and anger rip apart our bodies. They also drown our relationships and wreck our lives. But don't worry about it because that's bad for you.
The little teachers of Kids Kicking Cancer are as young as two years old. They have faced more stress in their lives than most of us can imagine. However, they are teaching the world how to "breathe in the light and blow out the darkness" using the same martial arts techniques that they have learned from the black belt therapists of an amazing program that is in four countries. In thirty lessons you will be inspired, motivated and educated by these children how to make significant changes in your response to the stressors in your life. These lessons have been presented to major corporations across the globe. 97% of the adults describe these seminars as having had "a profound influence" on their lives.
Each chapter of this book contains a link that will connect you to simple audio and written meditations that you can practice as well. Every time you open that link, numbers go up in front of the children allowing them to know that they are teaching you. It's a win-win situation. You will live longer and they will have purpose, and with that, less pain. There is no book like this in the world!
The author lovingly referred to, as "Rabbi G.", by the children, is a clinical assistant professor at Wayne State University School of Medicine and a black belt father who lost his first child to leukemia. Rabbi Elimelech Goldberg has received numerous awards across the globe including being featured as a "Hero Among Us" in People magazine as well as a Top Ten CNN Hero. However, to the Rabbi it is the children who are the real heroes. It is clearly his privilege to be their voice.